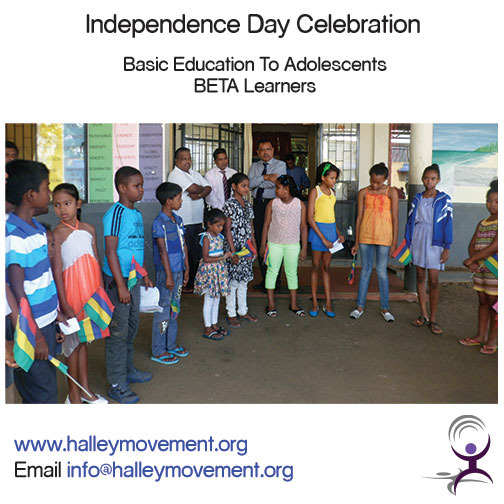 Event
The Flag Raising Raising Ceremony was held at Batimarais Community Centre on Saturday 14th March at 10 00 hrs.
This event was organised by Halley Movement to provide its thirty (30) BETA (Basic Education To Adolescent) Learners with the opportunity to celebrate the National Day 2015.
Guests
The Chief Guest was the Chairman of the Savanne District Council. Other guests included District Counsellors of the Council. Parents of the Learners also attended the ceremony.
Proceedings of the Day
After the formal National Anthem and the flag Raising, speeches were as follows:
1. The Secretary-General of Halley Movement welcomed the learners and guests and highlighted the following:
a) The educational objective of the BETA Programme since 1993
b) The content of the programme which includes literacy, numeracy, Entrepreneurship education & ICT
c) What next for the learners? – Internship in the neighbouring businesses after following the BETA Programme.
d) The relevance of celebrating the National Day.
2. Mr Rajiv Luchman, Chairman of the Savanne District Council assured the support of the Council for the welfare of the Learners at the BETA Programme.
3. Learners also showcased some pedagogical items including poems, songs, etc.
4. A video projection shown depicting the work of the Learners during the past years.
5. All Learners were presented with educational materials including pencil cases, flyers, stickers and posters.