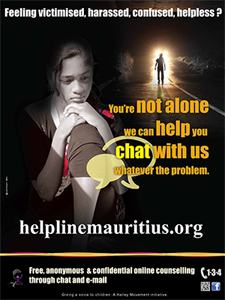 Halley Movement has introduced today Helpline Mauritius Online Counselling Campaign for children and young adults. This was done at a press conference held at Le Labourdonnais Waterfront Hotel in Port Louis.
The Helpline Mauritius Counselling Service will be in operation as from 1st August 2012. Campaign materials were also distributed to members of the press. The materials comprise a poster, information flyers and pencil cases.
The online counselling service is for children and young people in Mauritius and Rodrigues island. Children and young people will be able to have free, confidential & anonymous counselling through email and chat by accessing  helplinemauritius.org at anytime.